What is Human Design?
Human Design is a great way to learn more about your personality, emotions, and energy centers. Human Design is a system based on your exact time, date, and place of birth. But how do I get my human design chart? You can get it using our app.
This information doesn't just map where the planets were in the sky when you were born like a birth chart. Human Design also identifies your dominant chakras to create your personal bodygraph. It's basically an energetic blueprint.
Human Design is essentially a mix of Kabbalah, I'Ching, Myers-Briggs, astrology, biochemistry, genetics, and the chakra system.
The impact of learning about Human Design Charts
Now that you know your unique Human Design, what's next? How can you use this information to improve your life?
Human Design charts can have a profound impact on your life. By learning about your own personal chart, you can gain insights into your unique strengths and weaknesses, your ideal career path, and even your relationships.
Human Design is based on the principle that we are all special and unique, and that we each have our own specific purpose in life. By understanding your Human Design Chart, you can learn to live in alignment with your true nature and find greater success and happiness in all areas of your life.
3-Step Process on How To Read Your Bodygraph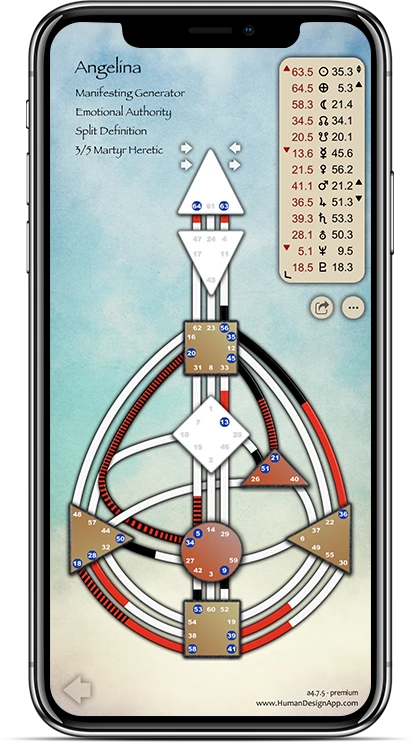 Take in the Centers
Reading a HD chart is a bit like peeling an onion, you have to start from the outer layer. You probably have heard of Type, Authority, Definition, gates and other Human Design aspects. However the first thing you can do is "take in the centers".
There are nine centers in the chart. They are the triangles, squares, circles and rhomboids with the little numbers in them.
Each center can be defined(colored) or undefined (white). When your center is defined you have a consistent way of doing, feeling or experiencing things in that area. When the center is undefined, you take "stuff" in from the environment. Undefined centers are a source of struggle or learning or both. 
For example a defined Sacral center gives you energy to "do things". An undefined Sacral means that you rely on other people's energy and you need more rest.
2. Type
Once you figure out the Centers you can focus on your Human Design Type
There are five types:
Generator
Manifesting Generator
Projector
Manifestor
Reflector
3. Authority
Now you know your Type. It is time to understand your Authority. The Authority shows you how you are designed to make decisions. It is based on your defined Centers. 
Emotional Authority
Sacral Authority
Splenic Authority
Self Projected Authority
No Authority